Decision Making For Leaders provides scientifically based educational materials suitable for developing leadership skills among current and potential leaders in the private, public, and non-profit sectors. It is based on research conducted over the last four decades by Victor Vroom and his colleagues. Victor H. Vroom is the BearingPoint Professor of Management (Emeritus) at Yale University.
Featured products:
Leadership Styles Analysis
Assume a leadership role in 30 short cases. Your 30 choices will provide the basis for a detailed analysis of your leadership style.
More Information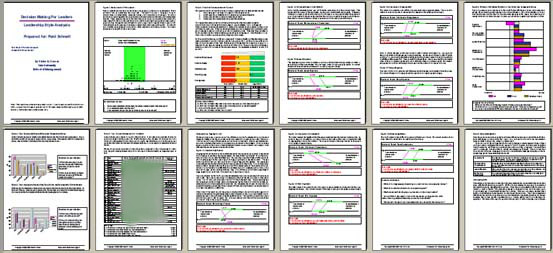 Expert System is a program which enables you to use the Vroom decision making model on your own problems, It selects the most effective leadership style for use in any describable situation. Expert System is available as a CD-ROm or can be used interactively on this website. In addition to explanations of the model and its scientific basis, the program enables a participant to analyze specific decisions on eleven dimensions relevant to choosing the most effective leadership style. ON completing the analysis of the decision, the participant can access a bar graph revealing the relative effectiveness of each of the five styles for that decision.
Expert System is the culmination of size independent validity studies. These studies supported the idea of a normative model and pointed to ways in which the validity of the model could be increased. This was accomplished b Professors Vroom and Jago by increasing the complexity of the exercise.
Expert System also includes information on the taxonomy of leadership styles, definitions, and samples of the situational factors, the logic and equations underlying the normative model, and a bibliography of research on which the model is based.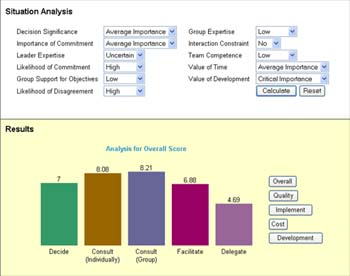 View all products and services